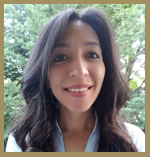 Marcia Eschbach
Client Service Associate, RJFS
Biography
In 2008, Marcia moved to Oregon from the tiny island of Guam and began her career in the banking industry.  After eight years in banking, she joined The Commerce Company in 2016.
Marcia guides retirement plan sponsors and participants through questions, forms, and plan transactions.  She is a firm believer in the saying "There is no such thing as a silly question," so feel free to reach out to her via phone or email if there's anything about your plan you need help with or just want to learn more about.  She'll either have the answer or guide you to someone who will.
When Marcia is not at the office, she enjoys spending her time with family.  They love traveling, going to the beach, and always staying active.  A few of their favorite ways to stay active are racing through hiking trails, rock climbing, paint balling, tennis, and eating (yes, you read that right — if you ever witness her eating, you'll understand why she considers it a sport).