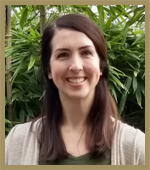 Kate Shamrell
Retirement Plan Manager, TCC, Client Service Associate, RJFS
Biography
As the first point of contact for retirement plan participant inquiries, Kate is the smiling face of The Commerce Company.  In addition to guiding participants through forms, transactions, and any questions they may have, Kate also uses her creativity to put together our two regularly-published newsletters and enjoys getting out of the office to meet participants face to face at benefits fairs.
Kate earned her Bachelor of Science degree in Business Administration from Oregon State University, where she was also captain of the women's volleyball team. Before joining The Commerce Company in 2017, she worked as an administrative assistant in the healthcare industry.
She spends her free time with her husband, two daughters, and dog, Lance. She enjoys sports and fitness, spending time outdoors, reading, and traveling.